How Do I Store Large Items in My Storage Unit?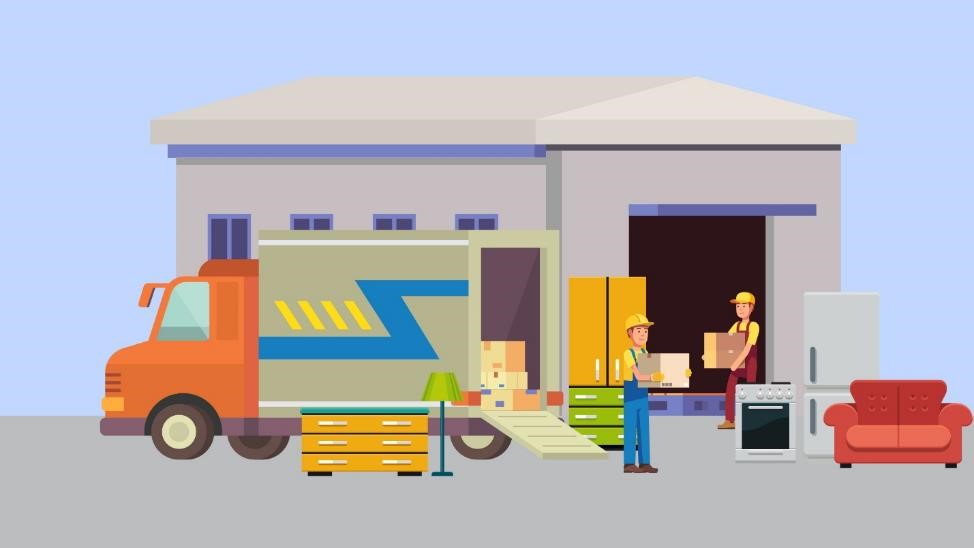 It's relatively easy to store miscellaneous items, clothing, documents, and other small items in an Acorn Mini Storage unit. You don't need a special vehicle or much prepwork—for these items, good organization and a little elbow grease will go a long way. But the same can't be said for large items like furniture or appliances. These items are bulky, difficult to transport, and tricky to store.
If you're wondering how on earth you're supposed to store those large items in your storage unit, you're not alone. Thankfully, our team at Acorn Mini Storage know a thing or two about storing items for the long haul. There are lots of things to consider when storing large items, but it often comes down to three things: picking the right unit, transporting your items to your unit, and properly storing your items once they're here.
How to Pick a Storage Unit
Storing large items in your storage unit starts with picking your storage unit. There are a wide variety of storage unit sizes with an equally wide variety of features at Acorn Mini Storage to fit every budget and need. You'll just need to make sure you pick the right one for you. And if you already have a unit, you can change your unit at any time if your needs change.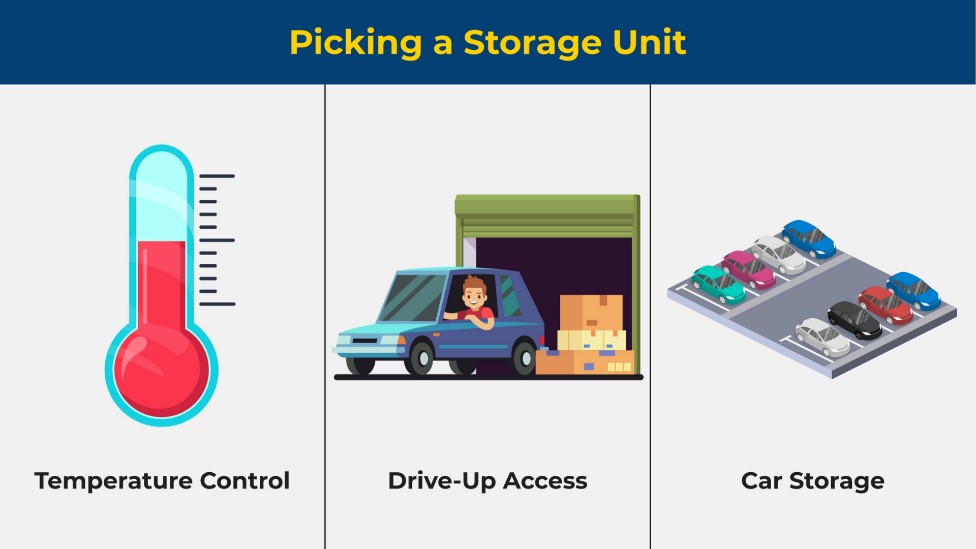 How Large a Storage Unit Do I Need?
The first step in picking a storage unit is selecting one that's big enough for your needs but small enough that you aren't paying for a huge amount of unused space. If you are deciding between two unit sizes, we generally recommend going with the larger unit. You don't want to be half moved in only to realize you need more space! it's a good idea to explore units slightly larger than your need right now just to give you some breathing space.
Each one of our Acorn Mini Storage facilities feature a different collection of unit sizes, but generally our unit sizes range from about 5×5 (25 square feet) to 20×20 (400 square feet). Make sure you measure your large items so you know exactly what you need. And regardless of what you have to store, check out our online size guide to determine how much floor space you require.
Unit Features for Storing Large Belongings
At its core, a storage unit is four walls, a floor, and a ceiling. But dimensions aren't the only thing that matters—storage unit features can make it easier to store large items. Acorn Mini Storage's unit features can help make storing large belongings as easy as possible.
Temperature controlled units
Some large items, like a family heirloom wooden table, can be damaged by the Minnesota heat and cold. These items are also usually affected by drastic drops in temperatures, the likes of which are common in the Midwest. Temperature controlled units are kept between 55 and 80 degrees depending on the time of year and the weather outside. Non-temperature controlled units have a much wider range of temperatures.
Drive-up units
Heavy items are hard to transport (and we'll get there in a moment), so how your unit is situated within the facility is important. The easiest units to access are drive-up units where you can directly access your unit from your vehicle.
Car, boat, or RV storage
Your vehicle is the largest item you could store with us. Most of our locations offer drive-up units large enough to store a vehicle. In addition, the below facilities have specific outdoor parking facilities:
Getting it There
Once you've got your unit, your next step in your heavy item storage journey is getting it from your home to your storage unit. It's easier said than done, of course. Luckily, you've got options. We also offer carts throughout the facility available on a first-come basis. You're welcome to use the carts to transport large or small items from the vehicle to your unit.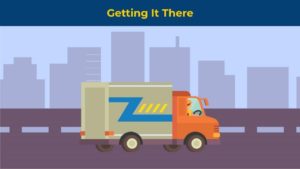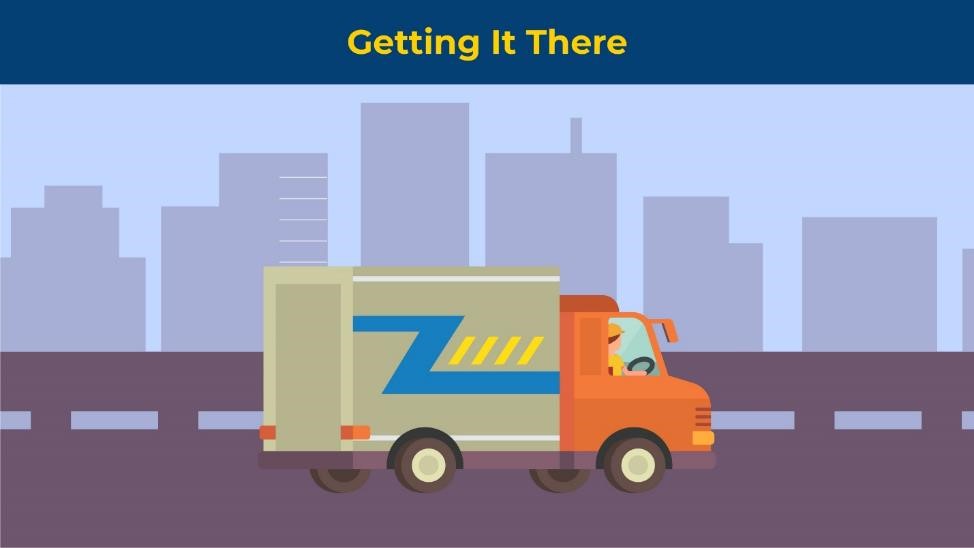 Take Advantage of Our Free Truck Rental
The easiest way to get large items to a storage unit is with a truck. Of course, not everyone owns a pickup truck, and even SUVs are sometimes inadequate or insufficient for particularly bulky items.
That's where Acorn Mini Storage comes in. We recognize that getting items from your home to one of our facilities is often the hardest part. That's why we provide one free usage of our U-Haul moving truck to all new renters! To qualify for the truck, you must be a new customer and your storage unit must be 10×10 or larger. If you're storing large items, though, a 10×10 or larger unit is a good idea anyway.
Please note that, while the truck is free, you are responsible for mileage and gas.
Hire Some Third Party Help
Don't qualify for the truck or just need some additional help? A third-party moving company might just be the ticket for you. A third-party moving company can help with hands-on moving, unloading, transportation, and other moving issues that you haven't thought about—for instance, some companies will box up your items for you! It's pretty common for our customers to utilize a third-party moving company, and we've got our own relationships with some. If you think this could be the solution for you, just let our property manager know and we can help with a recommendation.
Storing Large Items in Your Storage Unit
Once you've transported your items to your storage unit, now it's time to store your items. Of course, you can't just store your items in your storage unit willy-nilly. It's important to store your items in a way that they are secured for the duration of their stay, and so that you can easily move your items in and out.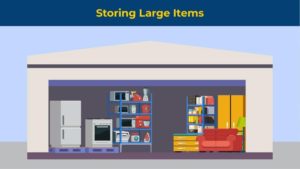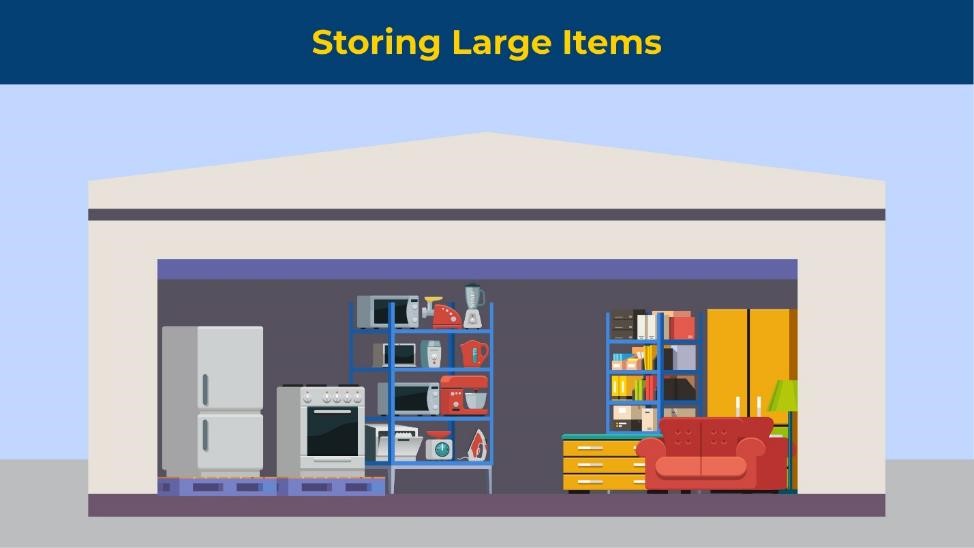 Pallets Are Your Friend
Our storage units have concrete floors, which work great most of the time. However, concrete floors aren't a perfect solution, especially for all heavy items. In our exterior units, concrete floors hold and lose heat quickly. This means that they can be hot in the summers and cold in the chilly Minnesota winters. In addition, concrete can actually hold some moisture. The result? Items placed directly on concrete can warm, cool, and gather moisture along with the floor itself.
Wooden pallets are a great way to avoid those downsides. With pallets, your items are suspended enough above the floor that the only thing affecting those belongings is the air around them. Furthermore, pallets can help you transport bulky items by allowing forklifts or other heavy machinery to move it around with ease.
At Acorn Mini Storage, you don't have to bring your own—we provide pallets for all our renters, free of charge!
Disassemble and Be Careful You Don't Crush Anything
Sure, you might technically be able to get that bet or table into your unit as-is. But feel empowered to disassemble items as needed. Remember, it's not about simply getting your things into your unit: it's doing so in a way that maximizes space efficiently and makes it easy to get items in and out.
To that end, you'll also want to store heavy items at the bottom. That seems like common sense—it is! But it can be surprisingly easy to overestimate the structural integrity of lighter items and underestimate the effect of putting larger items on top of them.
Utilize Vertical Space
While you rent storage units based on square footage, that square footage is only part of the space equation—literally! Your items exist in three-dimensional space, and while floor space is important, you'd be remiss to not utilize the third dimension: height.
One of the ways that you can make your unit much more efficient is through the use of shelving. You don't have to use shelves in your entire unit, but when you combine shelves with the use of same-size boxes you'd be surprised just how much you can fit in your unit. Shelves aren't just great for verticality, either; they can also help with organization, too!
Wrap Large Items
If you've ever stored things in an attic or basement for a long time, you know how dusty they can get after a while. The same thing can happen in a storage unit. Protecting your items from dust is easy: wrap them! You can purchase moving blankets at many of our locations at our supply stations. These moving blankets also double as protection during the move, preventing scratches and dents on your large items, such as appliances, pallets of inventory, or anything else that you cover them in.
Acorn Can Store Your Items Large and Small
Whether you're looking to store your large items for just a few months or for a long time, Acorn Mini Storage can help. Our friendly staff at our 15 Minnesota storage facilities is prepared to make your experience a great one. And we don't just specialize in large item storage—our storage lockers are ideal if you just need to store a few boxes. We also offer shelving for rent at the cost of $3 per shelf per month. These shelves can hold up to 800 lbs. of weight, so you can have peace of mind alongside your organization.
If you need storage, don't delay. Stop by one of our locations or reserve a unit online today!
---
Related Articles