Keeping Your Preserved Wedding Dress in Self Storage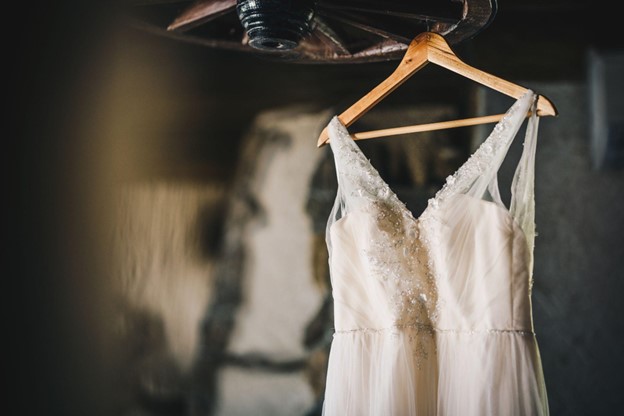 How to Pack a Wedding Dress for Storage
Your wedding dress isn't just a big investment for your wedding day—it's also a precious keepsake. That said, it's also not one you'll likely need on a daily basis. Keeping your used wedding dress in storage can save you space at home and might be necessary when you're moving or between places.
While every dress and storage situation are slightly different, there are some key things to consider when storing your dress. At Acorn Mini Storage, we're passionate about helping you get the most out of self-storage. Just keep reading to learn more about the general process for preserving a dress and how temperature-controlled self-storage can be a great option for safely storing your wedding dress.
To help keep your wedding dress in great condition for many years to come, you'll want to think about professional cleaning and preservation. Getting your dress cleaned as soon as possible after your wedding will help limit the damage that stains (even small ones you can't see) can do to the dress. After getting your dress cleaned, you can choose an option for preservation-based dress packing.
Often, you'll have the choice between putting your preserved dress in a wedding dress storage bag or box. Regardless of your choice, you'll want to ensure any materials around the dress are acid-free. It is also not recommended to use plastic for storing your dress, as it can retain moisture. The details for the right packing option for your dress may depend on your budget, your plans for the dress, and the details of the dress itself, like embellishments and lace details. A dress preservation specialist will be best able to guide you when choosing the best methods for packing and preserving your wedding dress.
Choosing the Right Storage Unit for Your Wedding Dress
As spaces tucked away from the hustle and bustle of your living space, and areas without direct sunlight, storage units can be great places for securely storing your dress after your big day. When preparing to store a wedding dress, you'll want to choose temperature-controlled storage to give your dress the gentlest storage environment possible.
Temperature-controlled storage units are regulated to stay within mild temperature ranges, allowing for a buffer between your dress and any extreme outdoor temperatures. With this feature, temperature-controlled self-storage is a better option for wedding dress storage than the non-temperature-regulated places of your home, like attics and garages. Along with being the best option for keeping your wedding dress safe from extreme temperatures while in self-storage, we recommend temperature-controlled storage for stashing many other household items, including photographs, appliances, wooden furniture, and more into a storage unit.
Aside from choosing a temperature-controlled storage unit, you'll want to make sure your storage unit leaves enough room to hold any other items you need to store without squishing your wedding dress box or bag or creating a tripping hazard. If you choose to keep your dress bag or box in a plain or extra container, it's a good idea to make sure to label it and make a note of where you put it so you always know where your wedding dress is located.
Renting a Personal Storage Unit with Acorn Mini Storage
Looking for an extra storage place for your personal items? Whether you're looking to store your wedding dress and other keepsakes items long term or just desperately need somewhere to put all your things during a move, Acorn Mini Storage has the space you're looking for! To get started, find a self-storage facility near you. Once you locate your preferred storage facility, check for available features, like temperature-controlled storage, and select a storage unit to start a rental.
---
Related Articles