The Beginner's Guide to Renting Self Storage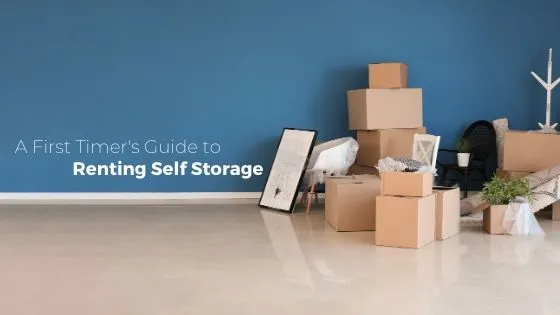 Acorn Mini Storage's Guide to Renting a Unit
Do you feel like you're running out of space in your home or business? You're not alone. Nearly 10% of American households rent self storage to help with their storage needs. If you've never rented a self storage unit before, you might have questions about how it works. From figuring out how much space you need and actually packing everything up to keeping it all organized while it's in storage, let the storage experts at Acorn Mini Storage show you the basics.
Preparing Your Stuff for Storage
The first step when renting a storage unit is deciding what you're keeping and what you plan to pack. If your reason for storage involves reclaiming space from a single room and giving it a new purpose—say, converting a spare bedroom into a nursery for a new baby or a new home office for permanent remote work—this is simple. Take an inventory of what's in the room and whether it can move elsewhere in your home or if it needs to leave.
If you plan to pack up multiple rooms (or even your whole home for a move), the process just scales up. Take inventory of each room's contents and decide if it needs to stay with you during your move or if it can live in storage for a while.
Packing for Storage
Packing for storage isn't that different from packing for a regular move. Carefully prepare any fragile items in bubble wrap or packing paper, or use extra blankets and pillows as cushioning. Pick small boxes for heavy items, such as books, and don't overpack anything. Mark all boxes with their contents and include the original room it came from. Write this information on each side of the box in case it ends up stacked with other boxes or at the bottom of a pile.
Once you're finished packing, make a note of any large items that will be going into storage but can't fit into a box at the moment: appliances, furniture, and equipment such as lawnmowers. Measure these items. You'll need to factor them into square footage as you shop for your storage unit.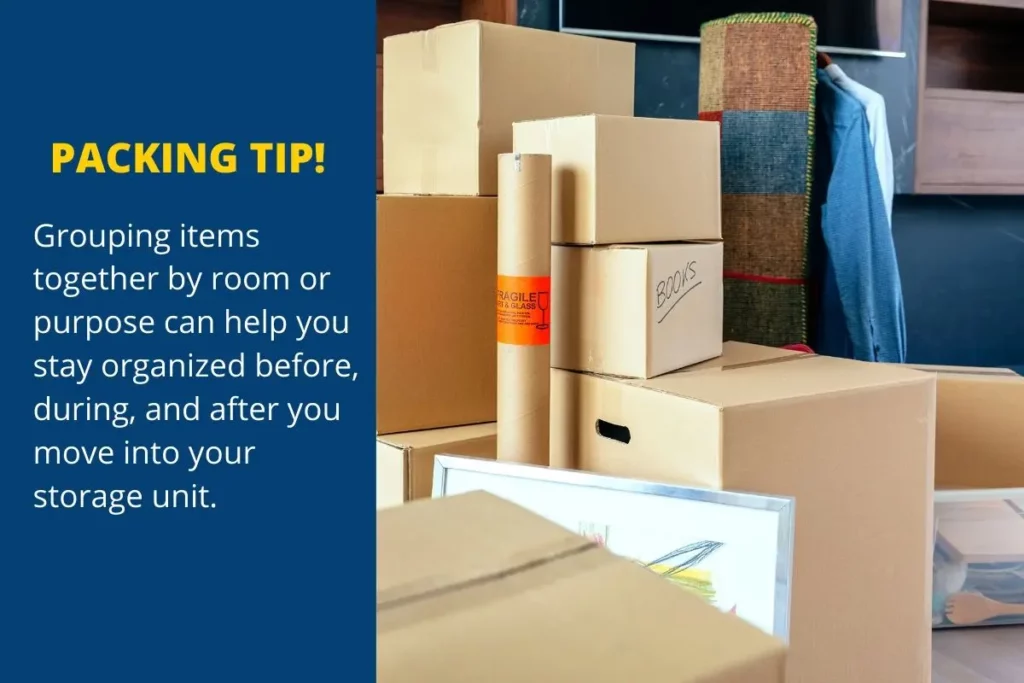 Picking A Storage Unit
The best way to shop for a storage unit is to start with a unit size guide. Most self storage unit size guides don't just tell you the square footage of a storage unit, but will also approximate the kinds of items that usually go inside them. Some units, such as a 5×5 or 5×10, can accommodate the contents of small closets or act as extra storage. Larger units, such as 10×30 or 20×20 units, are built to hold the contents of a whole house or operate as a warehouse for businesses.
How Much Storage Should You Rent?
If you think you might need to rent a storage unit for long-term needs or add to it over time—think businesses with ever-expanding inventories—you may want to rent a slightly larger unit. If you don't plan on adding to your stored belongings or only need storage for a short period (such as when shopping for a house), renting just enough space is probably okay. If anything, you can always upgrade to a bigger unit later on if necessary.
To determine how much space you need, add up the combined square footage of your stacked boxes/belongings. Stack them into as small an area as possible without building a tower that could fall on your head or cause harm. If you know you'll be using shelves or pallets inside the storage unit—your own or ones that you've rented from the facility—take that into consideration as well. Don't forget to think about where you fit in all of this. Rent a storage unit that offers enough space for you to maneuver around all your belongings.
Once you've decided on a unit size, call the facility and ask for a tour or reserve the unit online if you know that's what you need.
In addition, while we do have month-to-month contracts for maximum flexibility, we offer a prepayment discount if you know how long you'll need to rent. The discount is 5% for six months and 10% for 12 months.
Move-In Day
When it's time to move your items into storage, give yourself plenty of time to load everything up, drive to the facility, and unload. If you've chosen not to hire movers, be sure to ask your storage facility about renting a truck to help with the move. At Acorn Mini Storage, we offer free use of a U-Haul rental truck for new customers and even have dollies and carts on-site to help make moving even easier. Every unit also comes with a free lock, too.
Move the biggest items into the unit first: furniture, appliances, and mattresses should go in before anything else. Once these items are moved in, proceed with boxes. Where possible, stack boxes atop pallets or onto shelves to aid in air flow and organization. Don't have shelves? Ask your storage facility's manager. In many cases, we have them available to rent. Group boxes together by room and stack vertically without creating a hazardous situation. Create a pathway in the storage unit—preferably in the middle of the unit—where you can access each group of boxes.
As you move items in, sketch out a rough map of the unit. Include where each "room" can be found, a few of the major items you've placed there. Take a picture of the map with your phone or make a copy and tape it just inside the doorway of the storage unit. This ensures you can easily find the contents of your storage unit if you need to take one or two boxes out at a time.
Staying Organized While Storing
Inventory everything you put into storage, either with a notebook or a spreadsheet. If you've labeled the boxes clearly and made a map, staying organized should be straightforward. If you're a business that is storing inventory or equipment, this is 100 percent necessary.
Another great way to stay organized is to take pictures of your unit with your phone and back them up to a cloud storage service like iCloud or Google Photos. That way, you can keep track of what is and isn't in your storage unit.
When you move items in and out of the storage unit, update your inventory as soon as possible. By keeping a close count of what you have in storage, using shelves to keep items up from the floor, and clearly marking boxes with their contents, you'll always have a good idea of what's in your storage unit.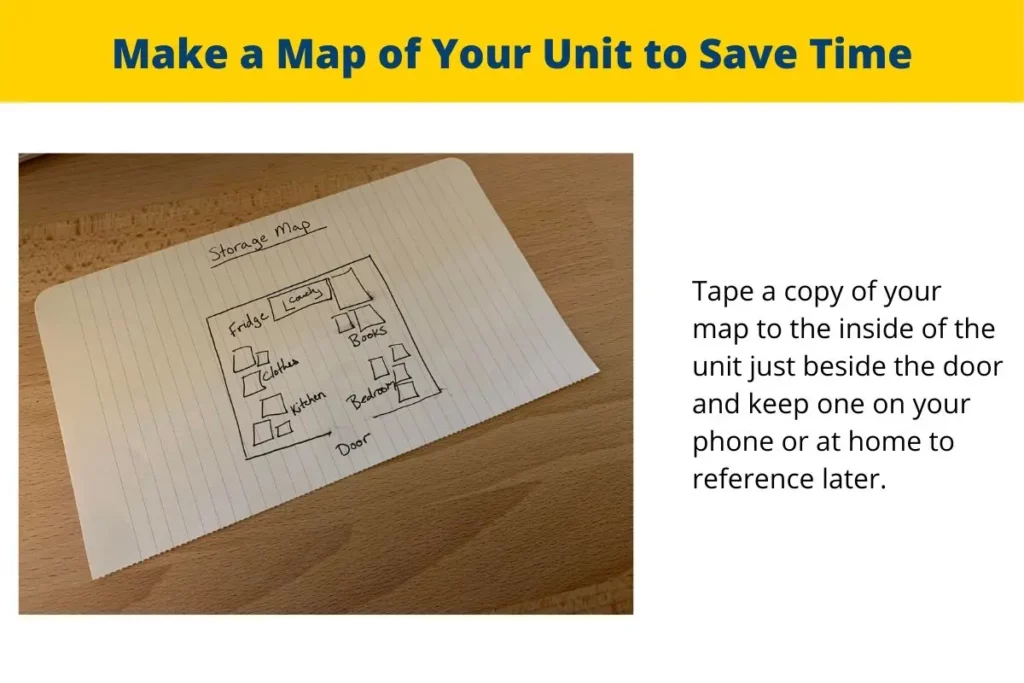 Get Started with Storage Today
No matter if your business is in need of some extra storage space for inventory or equipment, or you're looking to temporarily store some items during a move, renovation, or for other personal reasons, we can help. Using self storage is a common practice that isn't as complicated as you may think! To get started, contact the Acorn Mini Storage location near you or shop for a storage unit online today.
---
Related Articles