3 Reasons to Use Self Storage During a Move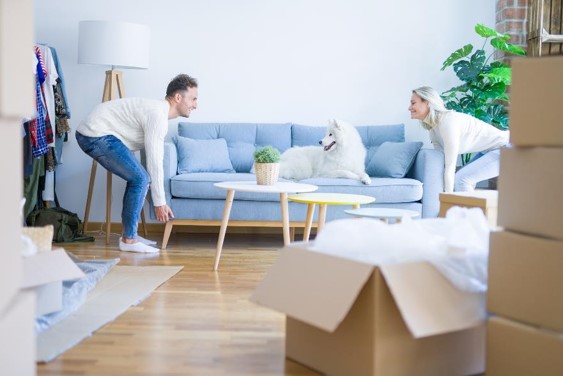 Using Self Storage During a Move
Every year in the Twin Cities, tens of thousands of Minnesotans move into a new home or apartment. Last year, over 60,000 houses sold throughout the metro area while thousands more apartments were rented. For every one of those occupied houses or apartments, the previous residents had to move out while the new ones had to move in. That's a lot of moving!
Whether you're moving out or moving in, you should consider using self storage. Acorn Self Storage in Cottage Grove, located right by the Jamaica Avenue exit from Highway 10, helps provide storage during a move to many Minnesotans. Here are three of the biggest reasons why a storage unit could help you, too.
Storage Can Help You Sell Your Home for More
When you're trying to sell your home, there are many factors at play. Some of these factors are out of your control, such as the economy, the housing market, interest rates, and even weather and time of year. There are some factors that you can control, however. One of them is unnecessary clutter.
While some items in your home can help give it character and differentiate it from the many empty houses on the market, too much clutter has the opposite effect. Research indicates that a poorly maintained house can even negatively impact the sale price of your neighbors' homes—let alone your own. Too much clutter can even turn away real estate agents, making it even harder to sell.  How do you combat this problem? Self storage.
Nearby Storage to Store it All
At Acorn Self Storage in Cottage Grove, we have a wide variety of storage unit sizes to help you store whatever you need to, from large furniture to miscellaneous boxes of your belongings. Free dollies, carts, and pallets are available to all renters. And if you rent a 10×10 unit or larger, you may take advantage of our free move-in truck to efficiently transport your belongings.
Its Convenience Gives You Flexibility
Moving is hard. If it was easy, you wouldn't have to bribe your friends or colleagues with pizza to help you move or pay for movers. Thankfully, self storage makes it easier. The faster you need to transport all your belongings into a new place, the more stress there is and the potential to forgot something—or lose it in a box it shouldn't be in.
With a storage unit, you've got a ready-made staging area that allows you to move on your time and gives you some more breathing space by keeping your living room or bedrooms from becoming crowded by boxes. There's less stress if you don't have to move everything at once.
Convenient Minnesota Self Storage Can Help
Acorn can help provide convenience and flexibility in Cottage Grove. With drive-up units available, it's simple to pull up to quickly load and unload a few items. We also sell moving and packing supplies on site to save you a trip to another store. For however long you keep your items here, they'll be secure thanks to security features such as 24/7 video recording and our free high security disc locks that we provide with every rental.
Storage for Unexpected Moments
Sometimes your move isn't totally planned. Maybe your house sold faster than you thought, or you encountered unexpected delays in finding a new place. It could be that you're going through a life event and you need to move when you didn't expect it. For all these moments and more, storage can help you carry out your move without a hitch.
Our flexible leasing options mean you aren't locked into a long-term contract that forces you to pay for a storage unit you don't need. At Cottage Grove, we have 24/7 access hours so that you can get to your storage unit and your belongings when you need to—even late at night or early in the morning.
Moving Can Be Difficult, But Storage Isn't
It can be a difficult and lengthy process to move to a new home or apartment, but you might be surprised how much value a nearby storage unit can add to your moving experience. At Acorn Mini Storage, we have clean facilities with a variety of storage units at competitive prices. Stop by our Cottage Grove location or reserve a unit online today to get started with your storage journey.
---
Related Articles