How to Pack Your Vehicle for a Move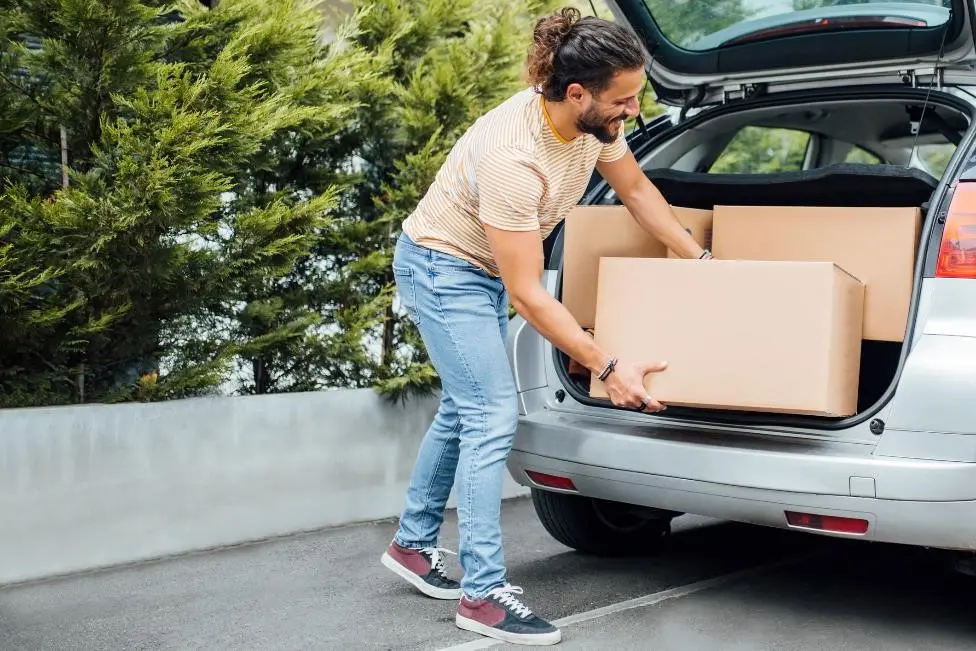 Packing & Moving with Your Vehicle
If you're skipping the moving truck and using your own vehicle for a move, it's important to make the packing process as simple as possible. From properly preparing your vehicle to keeping non-essential belongings in self storage, these moving tips from Acorn Mini Storage in Champlin can make your do-it-yourself move a breeze.
For packing tips, give our friendly storage experts a call, or drop by our storage facility on Champlin Drive North, right by Champlin City Hall.
Clean and Prep Your Vehicle Before Packing
Before you even think about packing your vehicle, make sure you've thoroughly cleaned it. Whether you have a sedan or a minivan, clutter can easily rob you of valuable moving space. Donate, sell, or throw away anything in your vehicle that you don't need or want to keep it tidy before the move.
In addition to decluttering your car, it's important to clean it to prevent your belongings from picking up dirt during the moving process. Vacuum and wipe down any space you'll be using for packing. Packing is hard work, but cleaning out a relatively small space like a car can be a great way to get started.
After you've tidied your vehicle, create a game plan for how you'll pack everything. If your vehicle has foldable seats, make sure you fold them down for more room.
Additionally, be sure to make the most of the space above your vehicle — overhead carriers are excellent for maximizing your vehicle's space for moving. While overhead carriers are relatively secure, it's best to pack valuables and delicate items inside your vehicle for safekeeping.
Use Bags Instead of Boxes or Luggage
While they may be sturdy, boxes and luggage can quickly take up space in your vehicle. Skip the boxes and luggage for flexible bags. Unlike rigid boxes or bulky luggage, bags are easy to fit into any space without damaging your belongings.
Furthermore, there are plenty of bag options, even beyond large trash bags or Ziplock bags. More heavy duty bags like the Hefty Steel Sak or a construction bag can be purchased at a local hardware store and can endure through your move without ripping or tearing.
Another environmentally-friendly and efficient packing solution is vacuum bags. You can pack even more belongings in your vehicle with vacuum bags, as they can shrink bulky items down to a slim, manageable size with a flick of your vacuum's switch.
If you're not comfortable with putting delicate valuables, such as jewelry or electronics, in bags, try to use small boxes. By just a few small boxes, you can keep your valuable items safe without taking up too much space. We offer high-quality U-Haul brand boxes and other moving supplies for purchase at every Acorn Mini Storage facility, making your move even easier.
Store Your Non-Essential Belongings in Self Storage
If you're packing your vehicle for a move, self storage is the perfect solution for you. Instead of cramming non-essential belongings into your trunk or cabin, give them a temporary home away from home in a storage unit.
You can save yourself time and frustration by only packing the things you immediately need during your move. Non-essential items you should considering storing instead of moving include:
Seasonal clothing
Holiday decorations
Keepsakes
Electronics
Documents
Self storage also gives you time to decide what to do with these items. Once you've finished moving your important belongings, you can catch your breath and decide which stored items you should keep, donate, or sell.
Reserve Your Acorn Mini Storage Unit Today
Moving can be stressful, but you can give yourself peace of mind with a storage unit from Acorn Mini Storage in Champlin. Whether you need a 5×5 unit for extra closet space or a 10×40 unit capable of housing your entire home's contents during a move, you'll find the storage space that's right for you at Acorn Mini Storage. Simplify your move and rent an Acorn Mini storage unit today!
---
Related Articles