How to Store a Mattress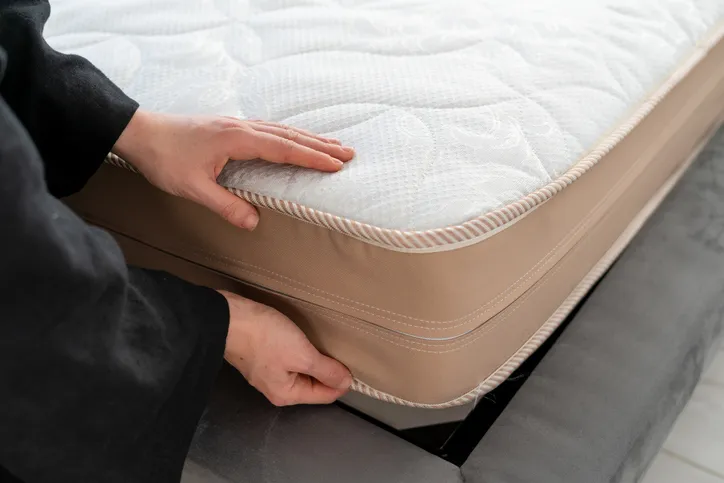 Acorn Mini Storage's Guide to Storing a Mattress
Moving to a new place can be exciting, but doesn't come without challenges. Packing up clothing, holiday decorations, and kitchen items can already feel like a hassle. But what do you do with bigger, more expensive items like a mattress? Keep reading to see how we at Acorn Mini Storage can help! 
Self Storage in Minnesota
Before you can take the proper steps to store a mattress during a move or for a longer period of time, you need to find a place to store it. If you live in Minnesota or are planning to move there, we have 15 locations around the state. Each is storage facility is equipped with state-of-the-art features and amenities including advanced security measures, flexible month-to-month leases, and a variety of discounts, making it the perfect place for all your storage needs. We even offer a free disc lock with every storage rental! 
Step 1: Clean Your Mattress
Before you store your mattress, you'll want to clean your mattress thoroughly. Remove the mattress from the box spring and strip all the bedding. To eliminate any odors, sprinkle baking soda on one side and leave it to sit for a few hours. Then, vacuum the exterior of the mattress to pick up the baking soda and any other dirt and debris. Spot clean any other stains with a stain remover. Be careful to read the mattress tag to see which kinds of mattresses shouldn't get wet. Typically mattresses like memory foam should stay dry. Repeat these steps with the other side of your mattress and then leave it to air out for a few hours.
Step 2: Cover Your Mattress
Next. you'll want to protect your mattress from damage, dust, dirt, and debris by covering it. Use plastic wrap to securely protect the entire mattress. Packing tape can prevent the plastic wrap from loosening and letting in moisture. Not sure where to get a mattress cover and other supplies? Don't fret. We offer packing supplies including mattress covers, packing tape, boxes, and more available for purchase on site.
Step 3: Transport Your Mattress
To protect your mattress from any other damage or dirt that Minnesota roads can turn up, use a covered moving truck to transport your mattress to our facilities. Though it may be tempting to strap the mattress to the roof of your car, this can be dangerous and cause unnecessary harm to the mattress. Ask about our free truck rental program at many of our locations for new customers! 
Step 4: Store Your Mattress in Your Unit
Once you and your mattress have made it safely to your Acorn Mini Storage rental unit, you'll need to decide how to safely position your mattress inside the storage unit. To keep the mattress in the best possible condition, lay it flat, like how it would be positioned normally. Wood pallets offered with your storage unit can keep the mattress off the ground and away from the elements. Avoid storing other items on top of the mattress. 
With Acorn Mini Storage, your mattress will be in a good place until you're ready to move it to your new home. Climate controlled units and high-quality security are just a few reasons why you should choose Acorn Mini Storage for all your storage needs. To get started, check out our storage unit size guide, browse our storage facilities, and rent your storage unit online today.
---
Related Articles