Time to Conquer Clutter!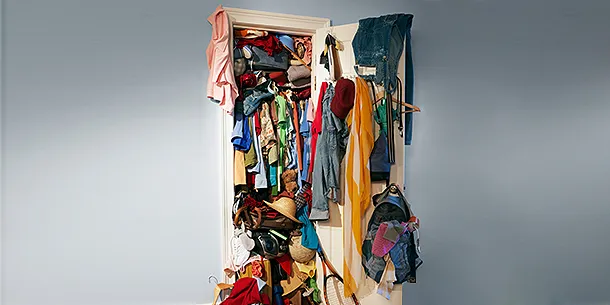 Guide to Managing Clutter by Acorn Mini Storage
Many customers come to Acorn Mini Storage when they find they just have too much stuff filling their homes, garages, and basements.  Constantly encountering messy spaces at home can have a big, negative impact on our thoughts, feelings, and general mood.  Women tend to feel the most desperate about clutter—while men can walk through a room without even noticing the stuff surrounding them, a study performed by UCLA found that women's stress levels rose significantly when simply staring at a cluttered room.  Additionally, the UCLA study dubbed our garages the "new junk drawers" of our homes–full of our stuff, not our cars.
4 Tips for Tackling Clutter
We would like to share our four favorite tips for tackling the clutter around us.  We hope that, as you put these into practice, you'll begin to reclaim the serenity of living in a comfortable and clutter-free home.
1. Focus.  Choose a specific place to start, and complete just one space at a time.  For example, rearrange the plastic containers filling your cabinets, save just the ones you use, and recycle the rest.  Focusing on just one project at a time allows you to reach a definite end point—and enables you to appreciate the results every time you open the drawer!
2. Schedule.  Set aside just 15 minutes each evening to tackle one specific project. Doing one small project each day adds up, and helps maintain your momentum as your efforts emerge bit by bit.  When you are ready to tackle a bigger project, such as a pantry or closet, break the task into parts and set aside a few hours each weekend until the project is completed.
3. Organize.  Clearing clutter doesn't always mean donating or throwing stuff away.  If you have items that you want to keep for sentimental reasons or for future use, pack and clearly label the container specifying the individual items inside.  Be sure to store containers in an environment where they will remain clean and free of moisture, bugs, and critters.  (You will find clean, well-lit, temperature-controlled storage units at your local Acorn Mini Storage.  We also rent portable shelving to keep your boxes organized and easy to reach.)
4. Recruit.  Not sure what to do with your grandmother's knick-knacks or your great uncle's collection of stainless steel oddities?  Call your siblings, friends, relatives—enlist them in a group project to sort, distribute, discard, and store the family treasures.
Visit your local Twin Cities Acorn Mini Storage and find your way to a clutter-free and refreshing outlook on life today.
---
Related Articles