Bloomington Grand Opening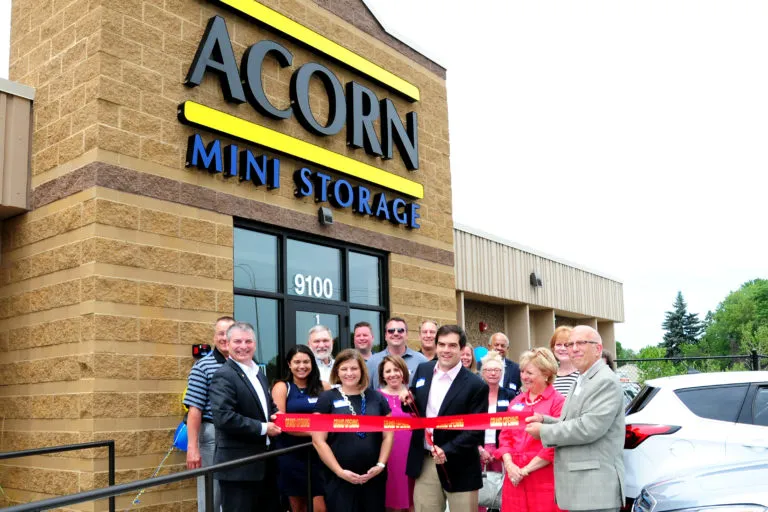 Acorn Mini Storage's Bloomington, MN, Grand Opening
On July 16, 2019 Acorn Mini Storage celebrated the grand opening of its fourteenth location in Bloomington. Acorn Mini Storage now provides almost 1,000,000 square feet of storage to more than 5,000 customers which makes it the largest locally owned self-storage company in the Twin Cities metro area.
Nearly thirty community stakeholders and associates were in attendance. A special thank you to the Bloomington Chamber of Commerce representatives that attended with its area business ambassadors.
Bloomington Storage Features
The Bloomington location is Acorn Mini Storage's most modern facility, to date. It features a variety of storage space sizes from 5×5 up to 10×40 with both temperature controlled and non-temperature controlled options available. This facility features outdoor storage spaces up to size 15×30 to accommodate recreational vehicles (RVs) and boats. Customers can enjoy complimentary water and coffee when they visit the office. To make moving easier, Acorn Mini Storage Bloomington has a variety of U-Haul brand boxes and packing supplies for sale and offers shelving rental to keep your stored goods organized. New customers receive a free high-security disk lock with their rental.
Acorn Mini Storage has been providing safe, secure, convenient and affordable storage options to the Minneapolis-St. Paul metro area since 1988. It offers month-to-month storage contracts with either temperature controlled or non-temperature controlled spaces to accommodate the customer's needs, and to maintain their stored items short or long term. Acorn Mini Storage is privately owned by a Minnesota family and operated out of Brooklyn Center.
---
Related Articles