Small Space Nursery Ideas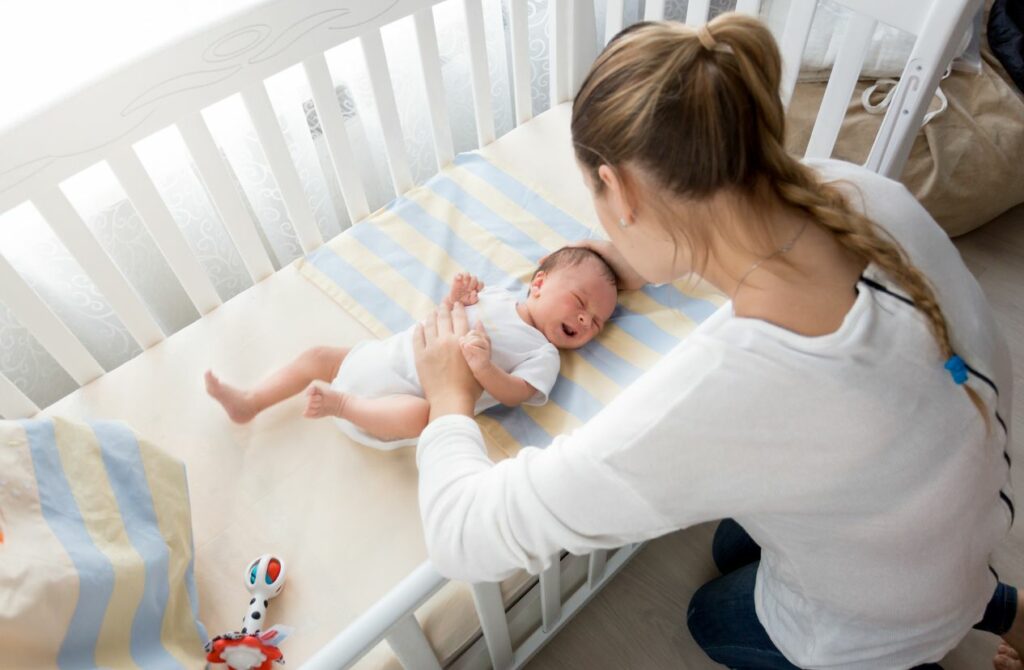 Nursery Ideas for Small Spaces
One of the most exciting (and nerve-wracking) events in life, welcoming a newborn into your family is the beginning of an entirely new chapter. There are a lot of preparations to make before your little one comes home for the very first time, including the setup of a nursery space.
If you're low on space in your home and aren't sure how to create the perfect nursery, Acorn Mini Storage is here to help. We have many nursery ideas for small spaces along with the additional storage rentals you might need to declutter your home to make room for your new baby.
Purchase Multipurpose Nursery Furniture
Instead of purchasing separate pieces of furniture with only one function each, focus on finding multipurpose furniture. For example, your baby's crib could also have storage space and a changing table, utilizing valuable space that may otherwise go unused. Alternatively, you can forgo a changing table altogether and instead purchase a low dresser and a changing pad to lay on top of it, creating your own changing table as needed.
You'll also want a comfortable armchair for yourself in the nursery. Purchase a matching ottoman designed for storage to go with it, giving you both a place to kick your feet up and keep baby essentials.
Hang-Up Floating Shelves
When a lack of floor space is a concern, utilizing wall space can be a great solution. Floating shelves are easy to hang up and are often affordable, providing you with a place to put cute decorations, toys, and supplies.
Designing Your Small Space Nursery
By choosing multipurpose furniture and floating shelves, you can leave more floor space for other important items. Have a diaper pail placed close to the changing area, whether you're choosing a designated changing table or have a low dresser that can have a changing pad strapped to the top of it.
The baby's toys should be kept off the floor and in a toy bin, removing the presence of any tripping hazards for when your newborn needs care during the night. When purchasing the toy bin, opt for one that's tiered or tall. While you may not have enough baby toys to fill all of the bins right now, you can use that open space to hold diapers, extra clothes, blankets, and other small things you might want close to the crib.
Lighting is also essential. Avoid having any harsh lighting in the nursery, as this can strain your baby's eyes. You want to provide soft, ambient lighting. The room's overhead lighting might be too strong and could shine right into your baby's eyes.
Instead, a lamp in the corner or on top of the dresser could suffice when there isn't enough natural light, or you could place dimming sheets over the ceiling lights to temporarily create a softer light.
Declutter and Reorganize
Sometimes, all you really need to do is declutter a little to make space for your new baby. The spare bedroom might need to be cleared out and repurposed, but if you don't have the space around the house for everything, the perfect solution could be right here at an Acorn Mini Storage facility!
Renting a storage unit can give you the space you need to make room for your new baby at home. Relocate clutter, excess furniture, and other items to storage so you can create the nursery of your dreams.
Rent Self Storage at Acorn Mini Storage
Here at Acorn Mini Storage, we go above and beyond to support our local communities, including new parents. Not only are we here to provide the space parents need as they begin this new chapter in their lives, but we're also proud partners with the Diaper Bank of Minnesota to help families in need get access to clean diapers.
Acorn Mini Storage serves as the official drop site for the Diaper Bank of Minnesota. Learn more about our partnership and how you can help support the cause and get diapers to Minnesota families!
Getting started with a storage unit is just as easy. Locate your nearest Acorn Mini Storage facility to see what's available, then rent or reserve a storage unit near you today!
---
Related Articles